This year I read 51 books. I also started to read the "Complete Collection Of H. P. Lovecraft" with more than 100 Lovecraft books. I didn't finished it yet but I read a lot of them.
It was also the year I bought a Kindle.
Books read in 2020
You can check the list in Goodreads and see my 2020 Year in Books.
This year I re-read a book, namely "Remote: Office Not Required" by David Hansson and Jason Fried.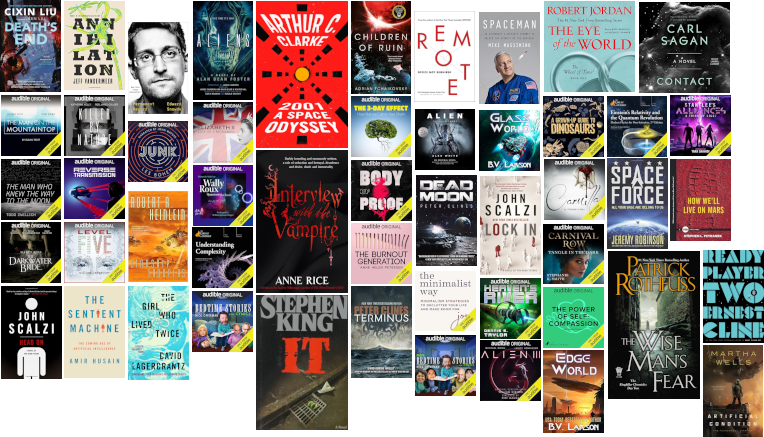 Top 10 books this year
Top 100 updates
This year 11 books entered my top 100. I'm always updating the list, so these may in time be removed from the list. You can see the current top 100 list in Goodreads.
These are ordered by read date (being the first the most recently read).
If I had to choose one, the prize would go to "It" by Stephen King, seconded by "The Eye of the World" by Robert Jordan.
2021 TBR
In 2021 I'll be starting and reading along the Malazan series by Steven Erikson.
January: Gardens of the Moon
February-March: Deadhouse Gates
April-May: Memories of Ice
June-August: House of Chains
September-November: Midnight Tides
Other books I'm keeping in my list to read this year:
Continuing "The Wheel of Time" series by Robert Jordan. Let's see how the Malazan schedule works for me to see when can I squeeze "The Great Hunt" (book 2) and if I can read more in the series.
Continuing "The Murderbot Diaries" series by Martha Wells. Next one is "Rogue Protocol" (book 3). I will try to catch up to book 5 this year.
"Dune" by Frank Herbert. Never read Dune… Don't know when but it's in my list for this year.
More Stephen King. I've been reading/re-reading King. Next in the agenda should be "Different Seasons".
Continuing the "Complete Collection of H. P. Lovecraft". I've started in 2020. Many book in this collection. Will continue.
If a new "Undying Mercenaries" book by B.V. Larson comes out.
I'll probably add some quick reads between the "big ones".
Extended optional/desired list:

"The Slow Regard of Silent Things" by Patrick Rothfuss. If I buy the book and/or if the last book in "The Kingkiller Chronicle" comes out and I pick it up.
Maybe I start reading in the "Cosmere" books by Brandon Sanderson? "Elantris"? "Mistborn: The Final Empire"?
Maybe continuing "The Vampire Chronicles" by Anne Rice. Next book is "The Vampire Lestat".
I picked up some Michael Crichton books. Never read Crichton.
Too many things already, but "Red Rising Saga" and "The Dresden Files" are calling me.